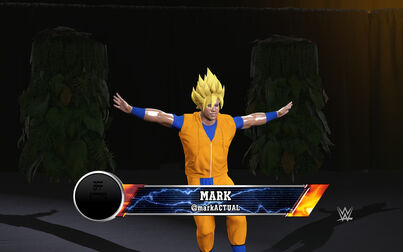 Mark is confused. Markthony is locked in a state of forward motion and is constantly switching gimmicks, on a quest to find the True Self.

The earliest sightings of Mark as a wrestler date all the way back to 2016. The year that wrestling was born. Mark first kicked down the door to The Industry (The Wrestling Industry) whilst donning a dad jacket, a Superman shirt, and some jeans. Markthonis was one of the staples of The Tag Division along with Stuart Blake as a member of The Heroes We Deserve. He may hvae won a belt? I honestly can't really remember. Then the BFF died.
The LMA Buyout
Edit
After The BFF was overtaken by Last Man Alive Wrestling, Mark returned home to aid his fallen friend, Stuart Blake (who had been going through a rough patch in his life at the time) and reform The Heroes We Deserve. Except he came back dressed as fuckin Sailor Moon or whatever. He was really sweaty the whole time, it kind of freaked everybody out. Then in a Belt Vs Gimmick match, The Claw toppled Mark and ordered that he had to abandon his cosplaying ways and go to law school. But no amount of education could ever clean Mark's pores.